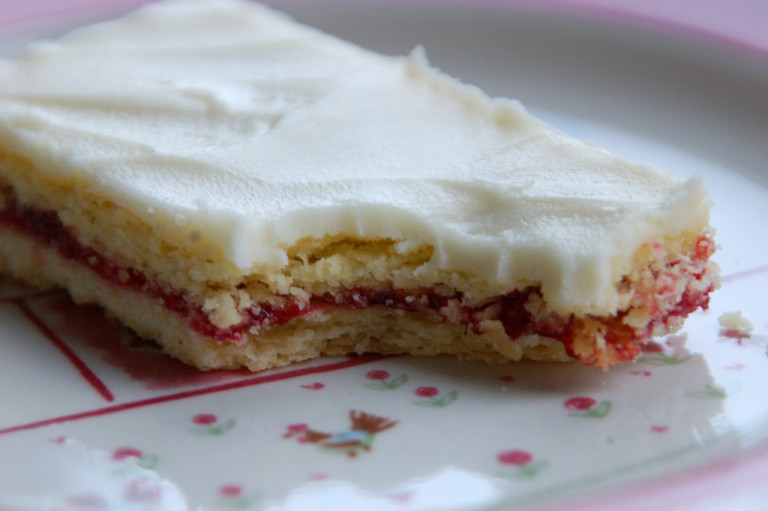 HINDBÆRSNITTER!! Danish cake, including the recipe!

This time we are sharing a recipe of a very, very typical Danish cake, the hindbærsnitter, or raspberry slices, more or less directly translated into English. But, so far we have only translated the recipe into German. Let us know if you need it in English too. This cake has been made and enjoyed since 1700-something and was so famous that H.C. Andersen often traveled the long way to Skagen to eat the version baked by the mother of the Skagen painter Anna Ancher. So here it is, the worlds best hindbærsnitter, recipe borrowed from Lone Vitus in Denmark:
Ja, ok, wir sind ja keine Spezialisten in das Deutsche Sprache, aber hoffe das es trotzdem geht.
Die weltbesten Himbeerschnitten – Hindbærsnitter auf dänisch – das ist es einfach, Rezept!
Das Rezept  und alle Bilder sind von Frau Lone Vitus, https://lonelandmand.wordpress.com/ , sehr freundlich ausgeliehen.
Ein Himbeerschnitt muss, von die Sonne ausgereifte, Himbeeren enthalten – versteht sich von selbst – können Sie sich einen Himbeerschnitt ohne Himbeeren vorstellen? ?
Die Himbeermarmelade muss fest sein, damit sie nicht versickert und den Teig nass macht.
Dann ist da noch die Glasur. Die Glasur sollte abdecken. Keine halbherzige, halbtransparente graue Schicht.
Heute erhalten Sie das Rezept für die ultimative Himbeerschnitten.
Gebacken mit dem Mürbeteig der Grossmutter.
Für den Teig benötigen Sie:
300 g Mehl
200 g Butter
100 g Puderzucker
2 Eigelb
Verwenden Sie für das Zusammenführen 6 EL. kraftvolle Himbeermarmelade
Die Glasur:
100 g weisse Schokolade
25 g Butter
200 g Puderzucker
5 EL. kochendes Wasser
Das ist alles – also fangen wir an.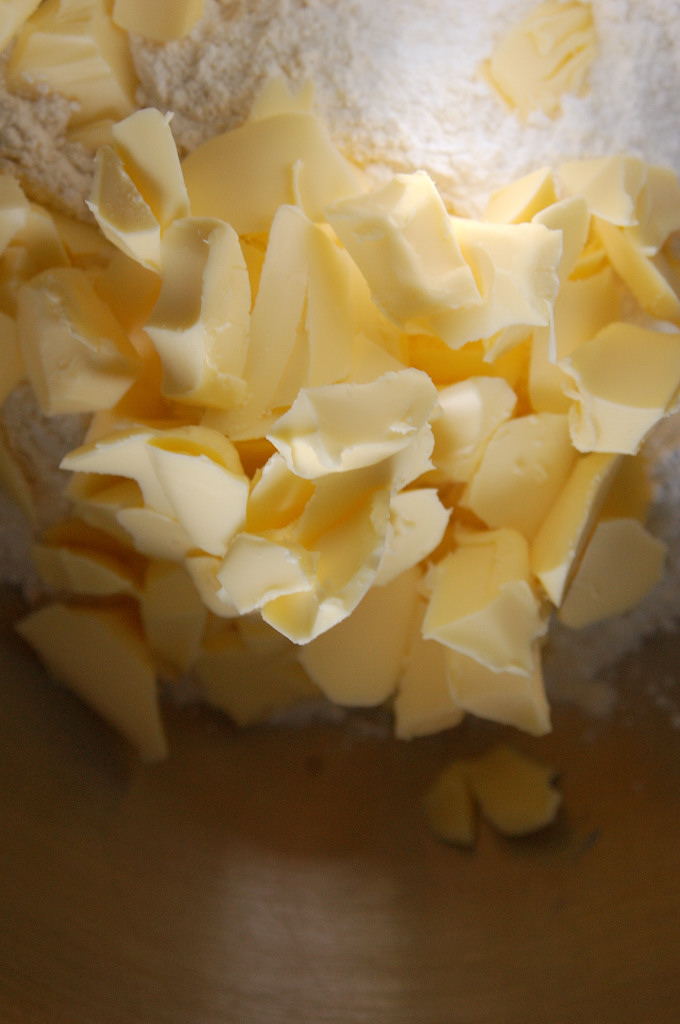 Mehl und Puderzucker abwiegen. Giessen Sie es zusammen mit zerkleinerter Butter in eine Rührschüssel.
Rühren Sie, bis die Butter vollständig fein verteilt ist, und fügen Sie dann das Eigelb hinzu. Und umrühren.
Umrühren, umrühren, umrühren…..
Zunächst passiert wirklich nichts, aber lassen Sie sich nicht von der Versuchung verführen, etwas Wasser in die Rührschüssel zu giessen.
Mach einfach weiter, bis sich der Teig ansammelt.
Sie können den Teig auch in Ihren Händen machen – das gleiche Verfahren – die gleiche Geduld.
Teilen Sie den Teig in zwei Portionen und drücken Sie sie leicht auf jedes Stück Backpapier. Kühle Teig für 1 Stunde. Für die Struktur ist es wichtig, dass der Teig abkühlen und ruhen kann.
Schalten Sie Ihren Backofen ein und stellen Sie die Temperatur auf 175 ° C ein.
Nehmen Sie nur ein Stück Teig auf den Küchentisch und rollen Sie es aus – noch auf dem Backpapier.
Roll, roll, roll…..
Den Teig auf ca. 25 * 30 cm anpassen.
Messen Sie die Seiten, um beim Zusammenfügen der beiden Blätter nichts zu verlieren. Niemand will eine Verschwendung von Himbeerschnitten!
Mit der ersten Platte in den Ofen und 12 Minuten backen. Ungefähr.
In der Zwischenzeit können Sie Platte 2 ausrollen – dann ist es fertig und kann nachher gebacken werden.
Legen Sie die frisch gebackenen Platten zum Abkühlen auf ein Gestell. Während die Platten abkühlen, können Sie die Glasur machen.
Giessen Sie Butter und weisse Schokolade in einen kleinen Topf und schmelzen Sie bei sehr schwacher Hitze. Lass dir Zeit.
Rühren Sie die Puderzucker in der Topf mit warmes Wasser, um die Glasur gleichmässig und glatt zu machen.
Wenn beide Platten vollständig gebacken und abgekühlt sind, können Sie die Dings sammeln. Verteilen Sie die Himbeermarmelade auf
einem Platte, bedecken Sie mit der anderen, und mit Glasur abschliessen.
Dann sind wir zur schwierigen Frage des Schnitzens gekommen.
Sie können den Platte in 18 kleine Abschnitte unterteilen oder 12 grosse, oder 4 grössere oder ein riesigen Himbeerschnitt belassen….Sie entscheiden ?
PS! Himbeerschnitten wurde in den 1700er Jahren in Dänemark erfunden!