France, part seven – Roquefort, the bridge, Aubrac and Laguiole

We left the camping site in Cahors early in the morning, after emptying the tanks and refilling freshwater. On the trip to Roquefort, about three hours driving time, we passed several small villages and drove over the fabulous Viaduc de Millau, considered the tallest bridge in the world, crossing over the gorge valley over the river Tarn. It opened in 2004 and the bridge is the reason why this short part of the A75 highway has a toll of 16.5 Euro for a motorhome.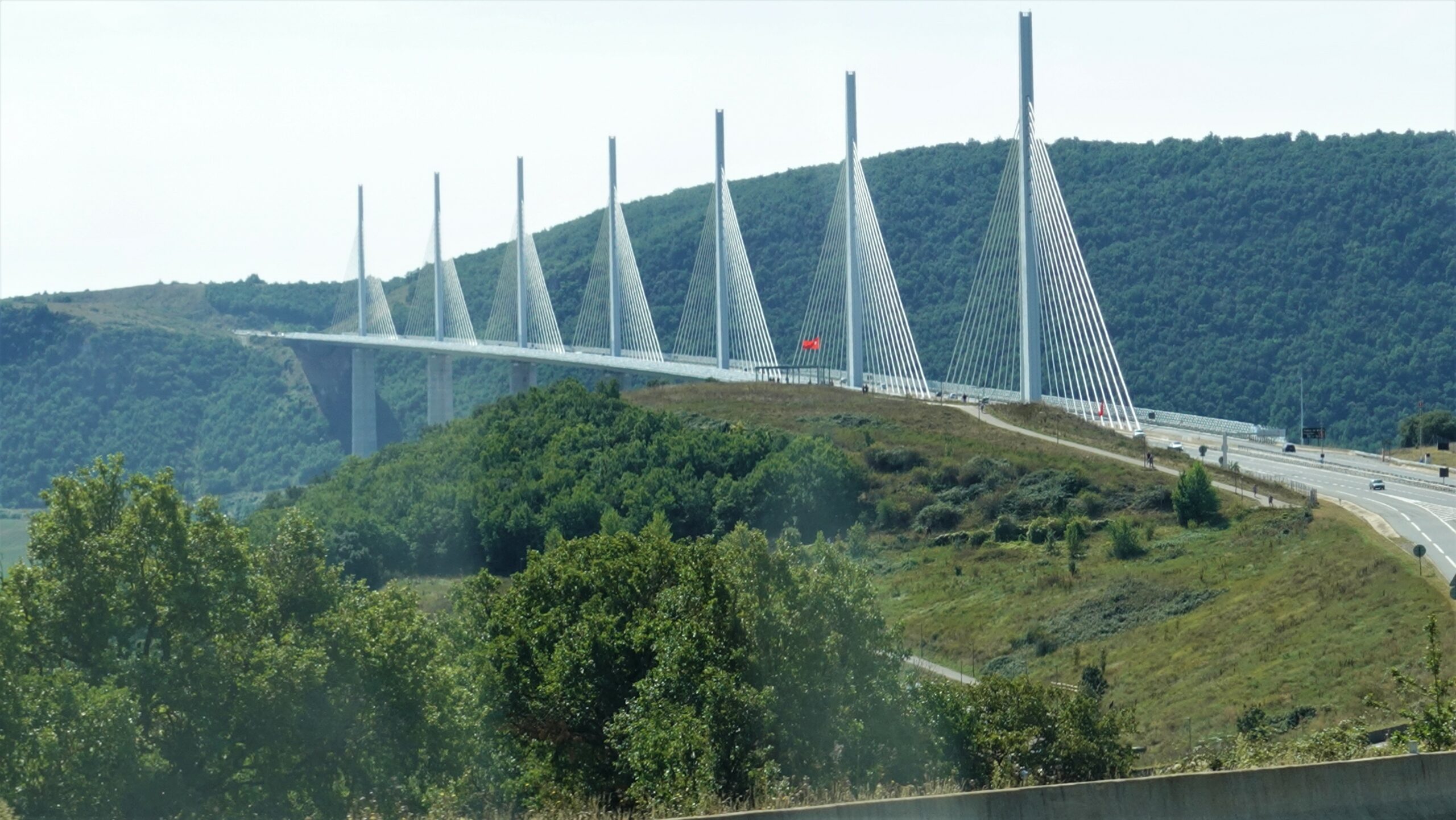 We arrived in Roquefort-sur-Soulzon and first, we visited the Roquefort Gabriel Coulet where cheese has been made since 1872. Under the shop, we watched a short film about Roquefort and there was a little exhibition depicting a cheese dairy and storage. Of course, we also bought some Roquefort cheese.
They were delicious and completely different from other good blue cheese from around the world, first of all, it is made from raw sheep milk, whereas most other blue cheeses are made from cow milk. After this interesting visit, we also visited the Roquefort Société where we took part in a guided tour of the cellars where the Roquefort cheese is stored for ripening. Originally the Roquefort Société was established in 1842. 12.000 m2 of caves with a constant temperature of around 10 degrees Celcius. It was a very interesting tour, where everything around making the Roquefort AOC cheese was explained very enthusiastically by the guide and we could see the huge storage facilities with thousands of delicious cheeses. After the tour, we were offered to taste the different types of Roquefort cheese and of course, we left with even more cheese for the fridge.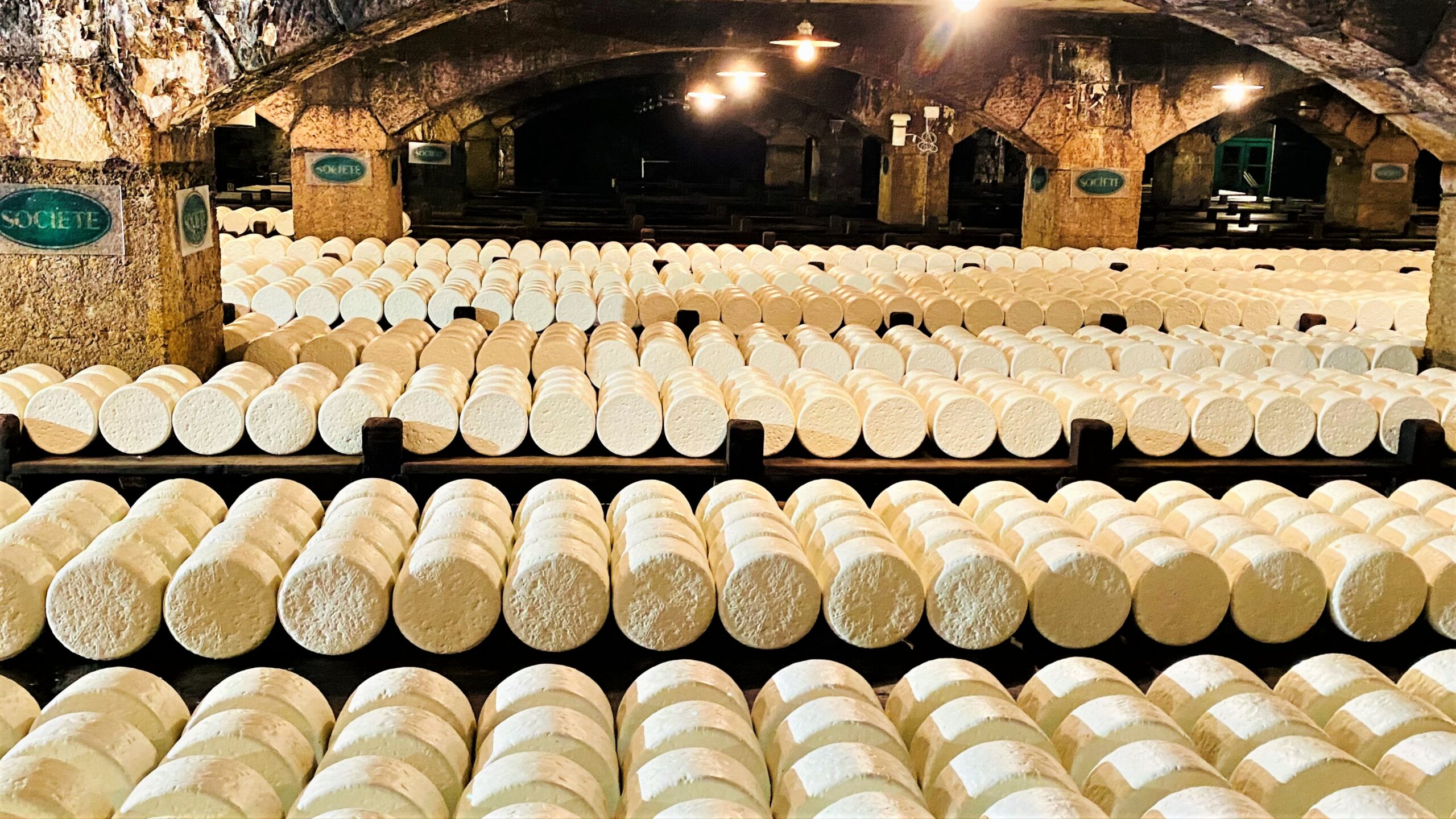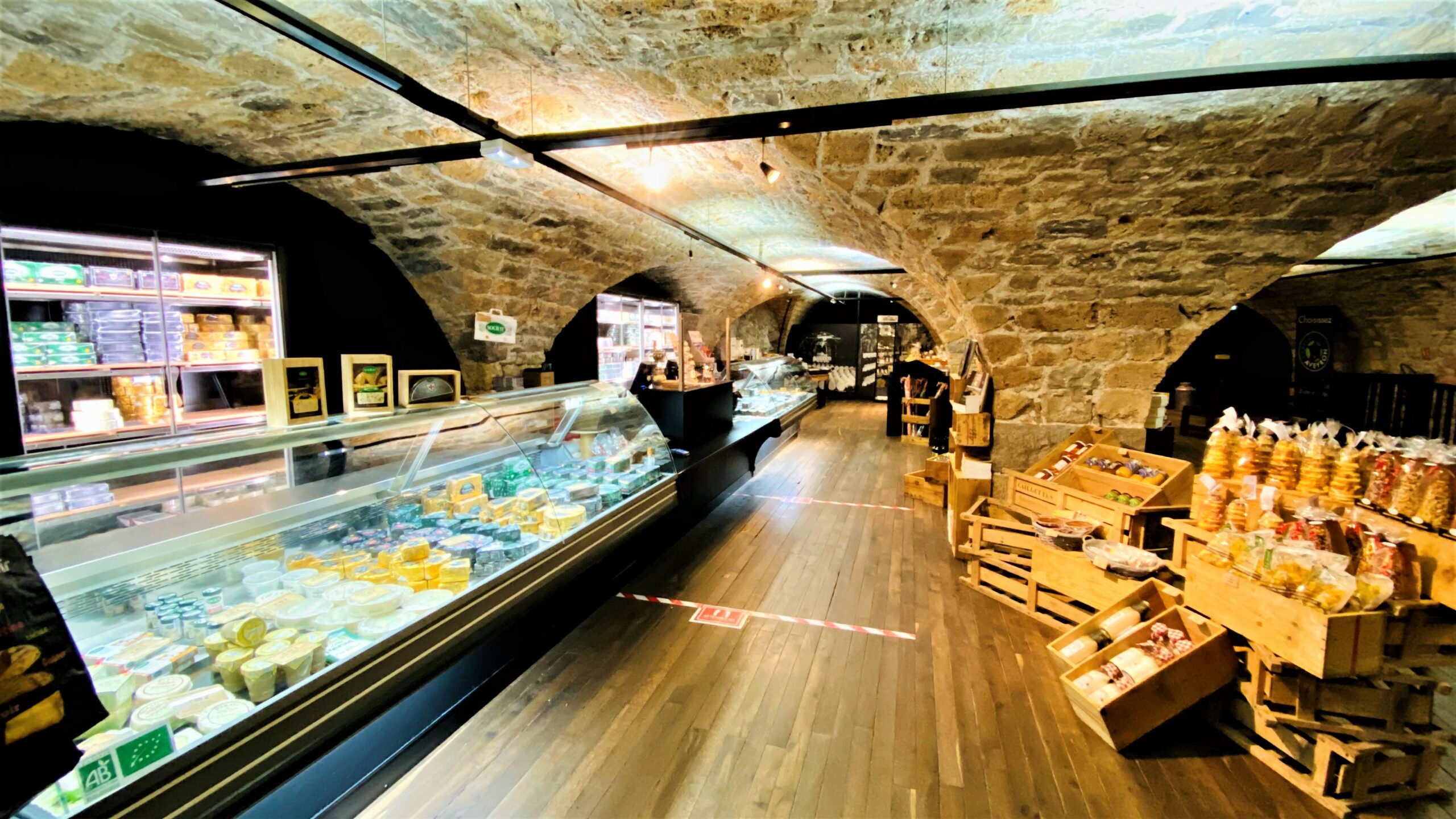 For the night we stayed at a farm a short distance from Roquefort. I was actually a cattle farm, breeding the beautiful Aubrac cattle. From our pitch, we could watch the Aubrac cows just in front of us. This was also a France Passion host with a super friendly reception. And there was a fine farm shop with the meat of the Aubrac cattle, local beer, and other local products, so dinner was secured.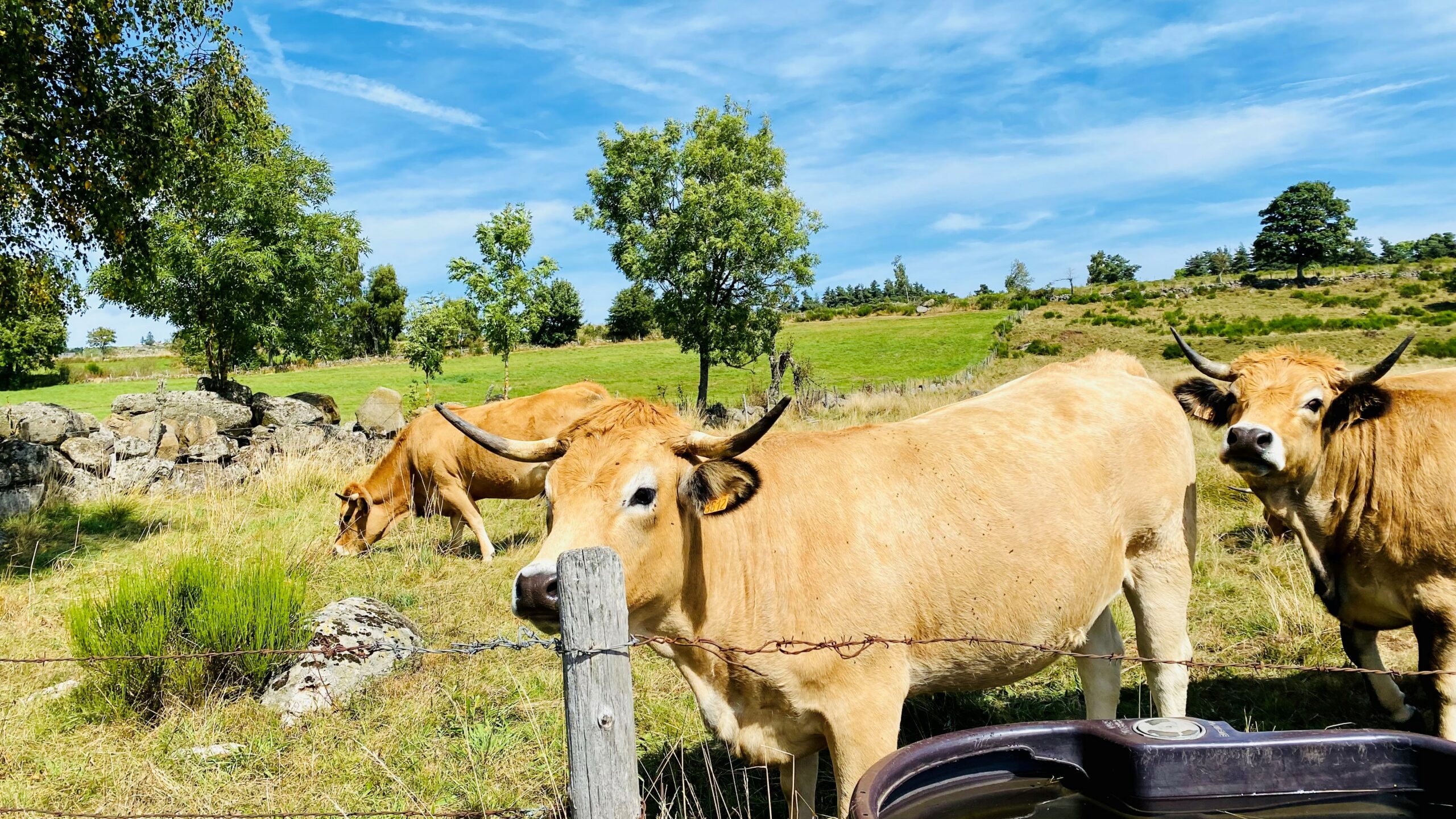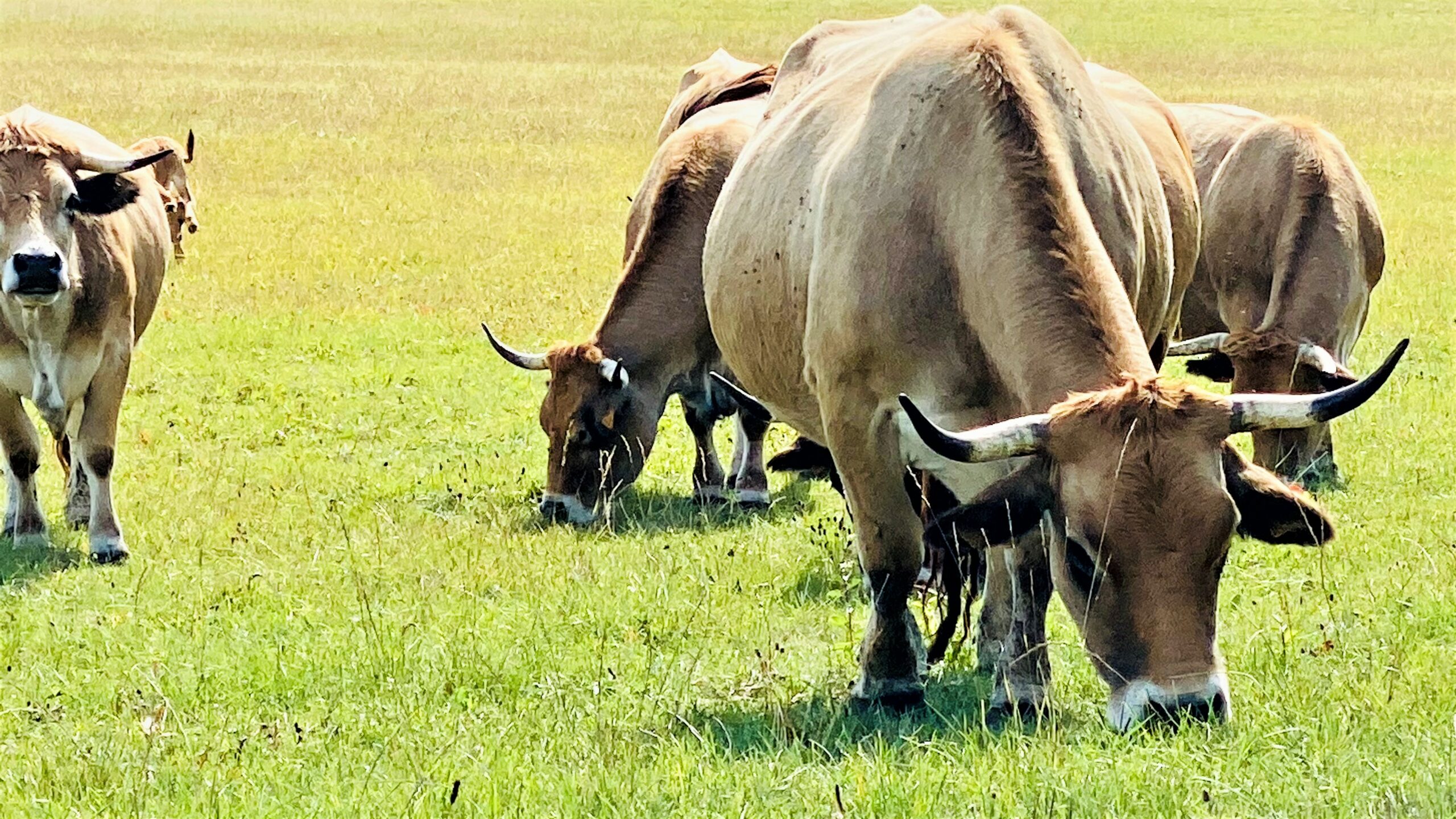 After leaving in the morning, we needed to get a new propane gas bottle. By Carrefour, in Saint-Affrique they were very helpful by finding a gas bottle with the correct connection to our Swiss gas system. The only little issue, it has a huge and heavy 13,5 kg steel bottle. But it fitted in and was even very inexpensive.
We could now continue to our next two destinations, Aubrac and Laguiole. The first many kilometers was on the A75 highway. It is a very special highway with long parts at an altitude of over 800 meters, and some parts even over 1000 meters with fabulous views. Long steep parts make it difficult for many trucks and leave the so-called Kassel hills in Germany to look like molehills. The last part before Aubrac and Laguiole went through very rural areas, very similar to areas we have seen in Ireland, with hundreds of fabulous Aubrac cattle all over.
Finally, we arrived at Laguiole where we decided to do some laundry and found one of the outdoor laundromats near a supermarket before we visited one of the best cutlery manufacturing companies in Laguiole, the Forge de Laguiole, where knives have been made according to the local tradition since 1828. Here it is possible to follow the many, many steps in the process of making the beautiful cutlery, all knives are completely handmade. So, be aware of cheap counterfeit copies!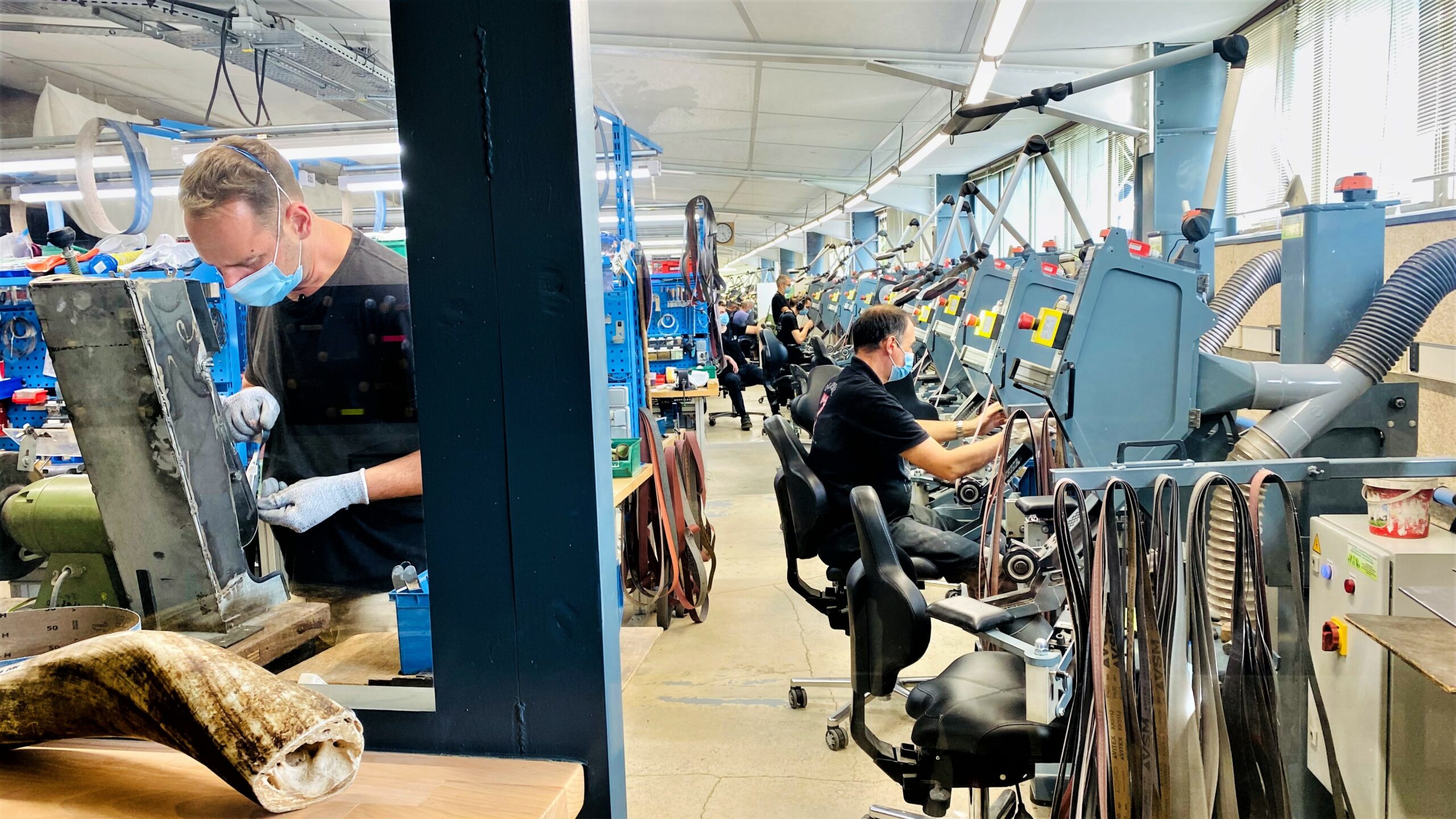 Then it was time to find our place for the night – again a France Passion host, just a few kilometers outside Laguiole. And once more, just in front of the wonderful Aubrac cows. The campsite had pitches for around fifty campers and there was also a little farm shop.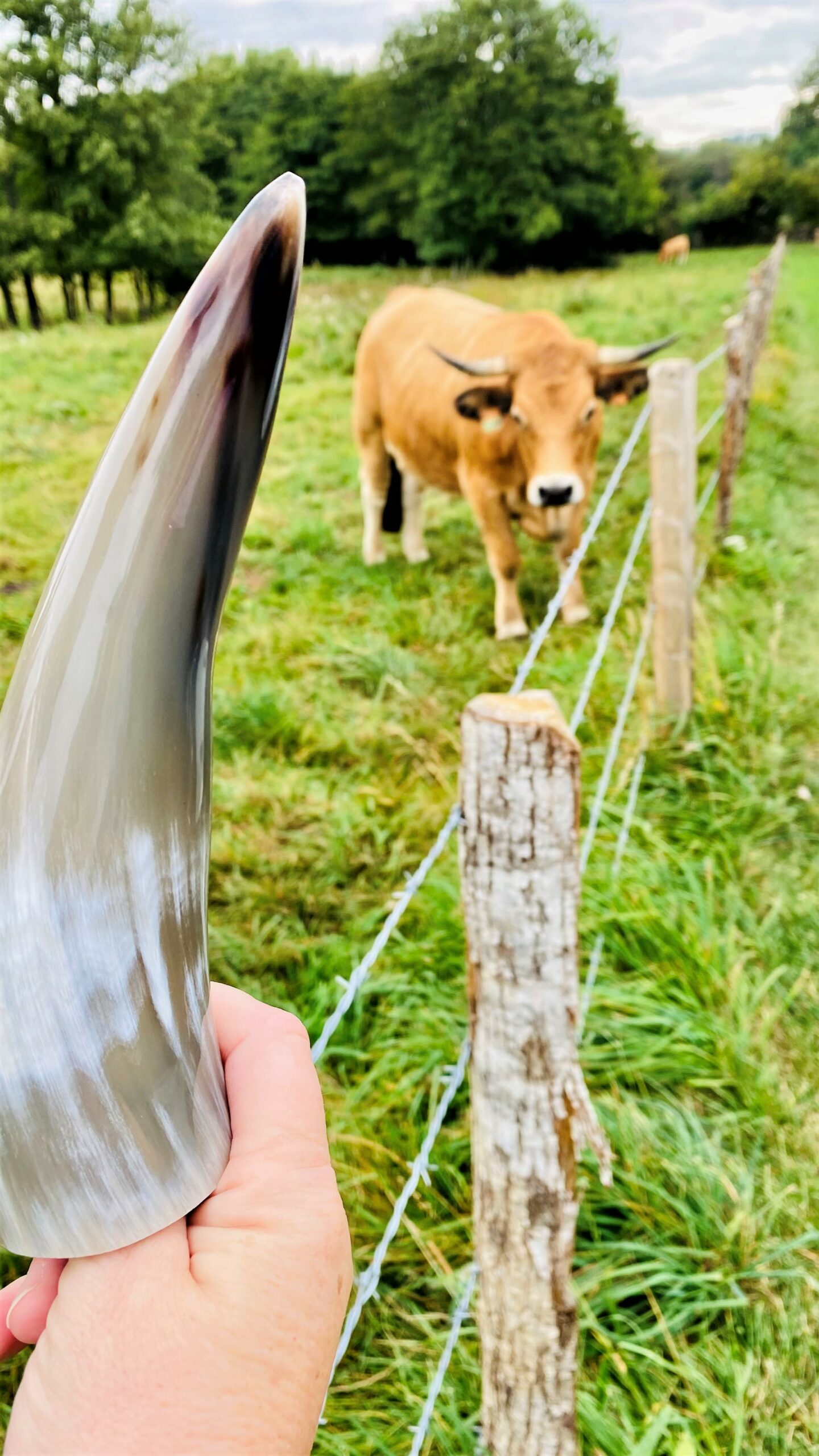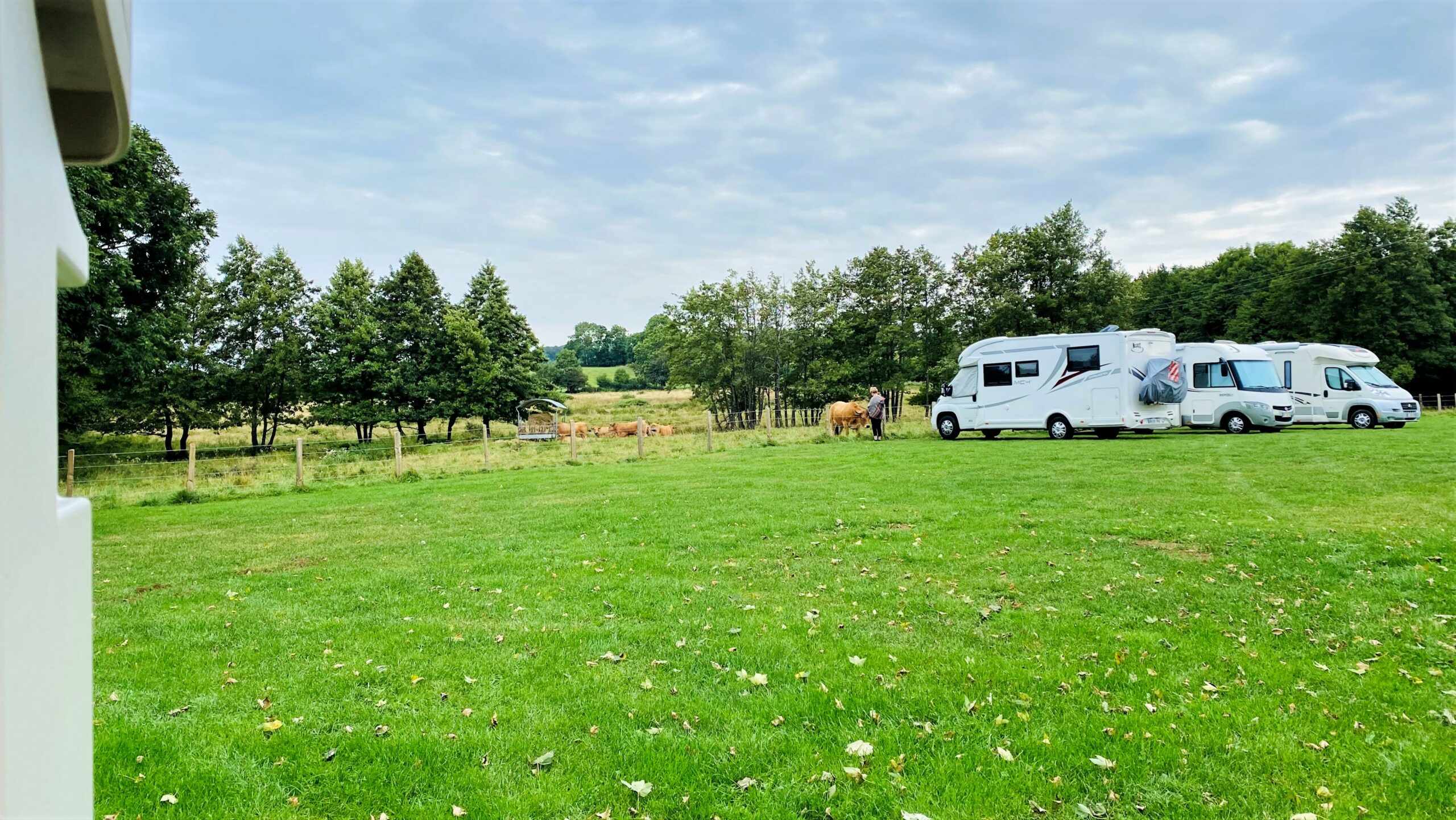 The day after we had lunch in Laguiole at Restaurant L'Aubrac. The Aubrac steaks are of course fantastic, but another interesting thing is the local sidedish, Aligot. Aligot is made with a blend of the local Tonne cheese (or another melted cheese), butter, cream, and very often a bit of crushed garlic. A very, very nice alternative to the normal fries or potatoes.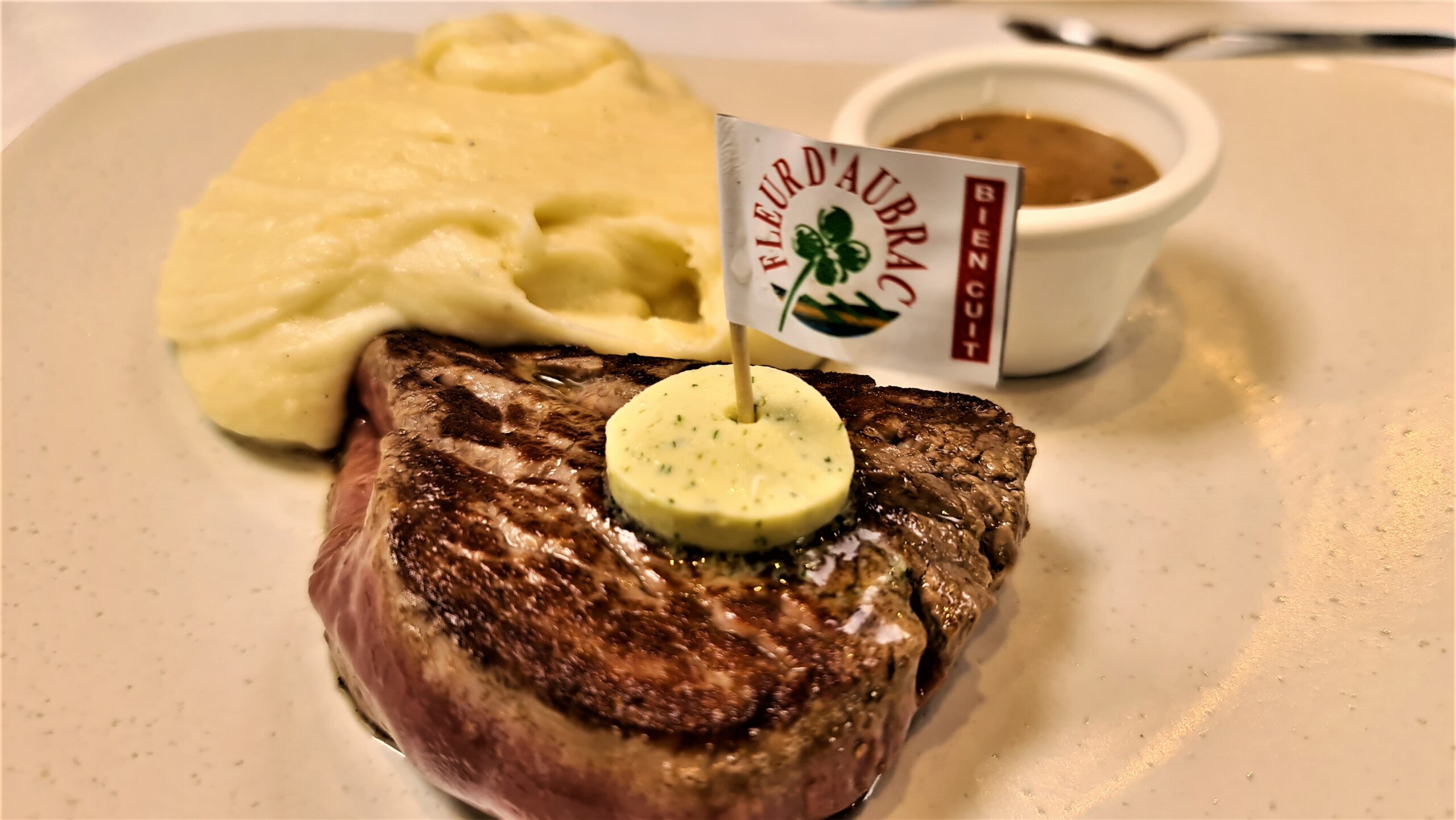 After lunch, we headed north and east, first along the Truyère gorge and river with great views and then further on at highway A75 and later in the direction of Lyon and Bourg-en-Bresse. But first, we stayed for the night by Dis Grand-mère. A small farm place, far, far out on the countryside, outside Saint-Martin-la-Sauveté, also a France Passion host with two camper pitches with a very nice view over the valley. Dis Grand-mère makes delicious marmalades, syrups, chutneys, and flower wine. Many of the marmalades include unusual blends of for example wild apples, saffron, and chocolate. A very interesting visit. Stay tuned for the next post.