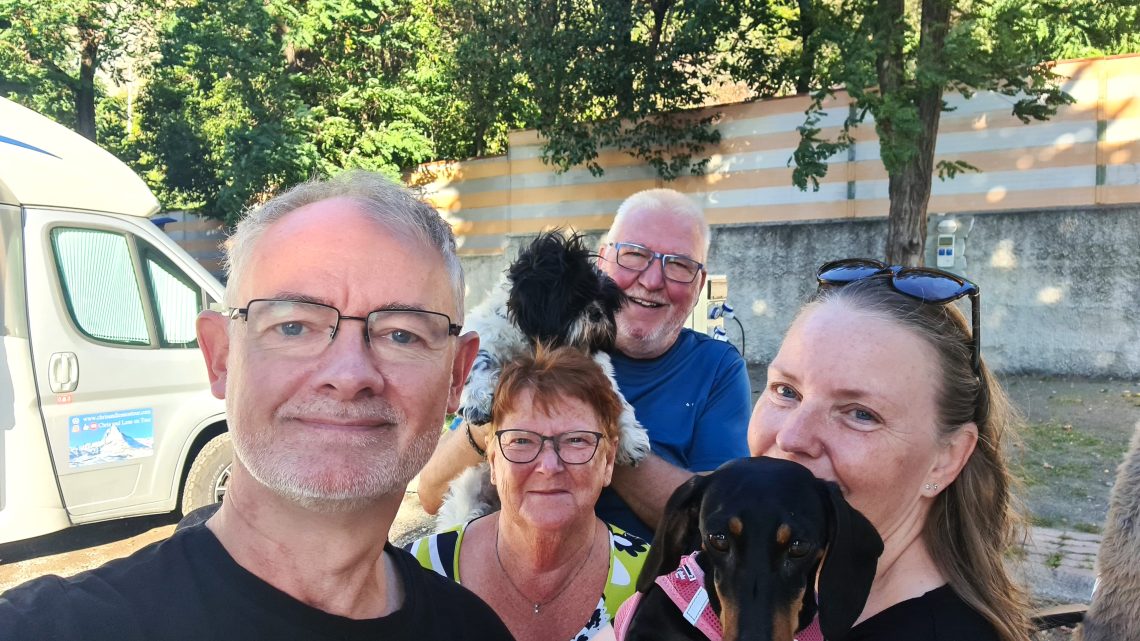 After leaving Bolgheri we continued along the coast of the Ligurian Sea until we reached Genova. First of all, we would find one of the best, and most genuine, Pesto Genovese. After some investigation, we figured out that we could buy this by Il Trofiaio at Piazzale Bligny in the northern part of Genova. And yes, it was a fabulous pesto. At Il Trofiaio they also make fresh pasta and sugo, so it was difficult to limit the shopping. Right opposite Il Trofiaio, there is a most interesting butcher shop where we could get all kinds of meat and delicious sausages. After filling up our fridge, we continued to the centre of Genova, drove a bit around and finally drove the long and winding road up to Camping Villa Doria, where we should meet with good old friends from Denmark…….or at least we thought so! When we arrived, at the camping site staff didn't know anything about our arrival, it turned out that your friends had booked at a completely different camping site, and forgot to send a message to us. SO, we continued down the road and drove half an hour to the west of Genova to Caravan Park La Vesima, a 2-star camping site by the beach of the Ligurian Sea. Here we met with our friends and enjoyed a couple of days together, visiting the beach and eating nice food together. Maggie also met with her buddy Bulder and had a lot of fun by the sea. We didn't go swimming as the waves were a bit too wild for us, and the undercurrent was fairly strong. But it was still great to watch the waves. After some hyggelige days, we continued north where we stayed by an AgriCamper Italia host near the border to Switzerland. La Piccola Fattoria is running a put-and-take lake along a small restaurant and a little shop where they sell local delicacies. The sandwiches from the restaurant were so delicious that we also ordered some for the trip back home.
Some facts about our Italian adventure:
In total, during 19 days, we drove 2.834 kilometres – including about 600 from our home to Italy and back.
The 18 nights in our camper were split in:
9 by AgriCamper Italia hosts,
3 on public camper pitches,
3 by friendly wine and balsamico producers
and the last 3 on camping places.
The total cost of the 18 nights was Euro 130.
We also spent Euro 65 on Italian highway tolls.
It was a fantastic holiday, during our very interesting visits to friendly and enthusiastic producers of the best Italian delicacies, we learned a lot. Just like we love it.
Wasn't there anything less good? YES, a billion hungry mosquitoes.
VIVA ITALIA!
Links to the places mentioned: Piazzale Bligny 2, 16141 Genova is where you can find Il Trofiaio and Dalf.
Il Trofiaio is a great place to get real Pesto Genovese.
Dalf, all sorts of meat and sausages.
https://www.dalfcarni.it/punti-vendita/
Camping site La Vesima.
https://www.caravanparklavesima.it/en/
La Piccola Fattoria (Agricamper Italia host).
https://agriturismo-la-piccola-fattoria.business.site/
Agricamper Italia
https://www.agricamper-italia.com/en/