Castelmola, perhaps the most beautiful village on Sicily, is situated on a mountaintop, 450 meters over the sea, offering great 360° views for example over Taormina and to Etna.
Taormina is also set on a cliff, overviewing the sea. It is a cosy, yet touristic city. Lots of souvenir shops and many nice restaurants.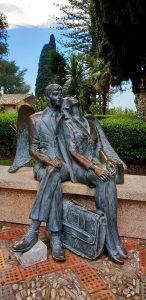 We also walked through the peaceful Lady Trevelyan Park. Taormina is also where you will find the second largest Greek theatre on Sicily, built about 2300 years ago, and they still use it! 😉 The peninsula of Isola di Ortigia in Siracusa was also worth a trip. We were lucky to arrive on a market day, and walking along the shoreline and through the narrow alleys in this old town, with a typical Sicilian atmosphere, was a relaxing experience. One of our last days was spent in Catania – see the previous post about the fish market (and cannoli 🙂 ). OK, that was Sicily for now, what a lovely holiday. Our rented Fiat 500, it couldn't be anything else could it?, did a good job, also on the narrow roads in the mountains.