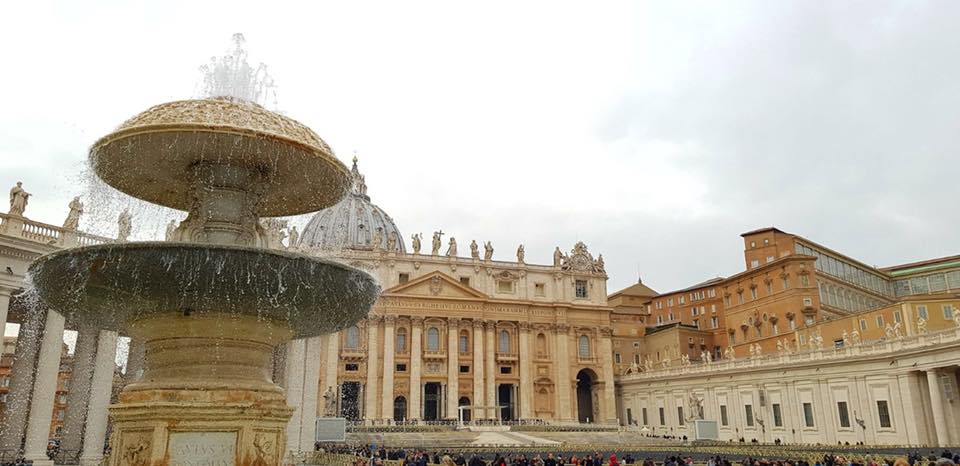 Fantastic ROME, this was our third visit, but last time was over 10 years ago 🙁. We just love this lively city. We only had a long weekend and quickly visited the big, touristic sites and then found some less crowded and interesting places. Rome by foot is simply the best, so the first day we walked over 23000 steps, it's hard to be a tourist.
From Pantheon to the Trevi Fountain (throwing a coin), up and down the Spanish Steps, St. Peter's Basilica, the Chiesa di Sant'Ignazio di Loyola with the fake dome (yes, a fake dome painted by Andrea Pozzo), enjoying the narrow streets and the vast choice of cafés, restaurants and shops, back to the Trevi Fountain again at night, throwing more coins 😉.
We had coffee, hot chocolate (the best we've ever tried) and yummi cakes at the oldest (est. 1760) bar/café in Rome; Antico Caffè Greco on Via dei Condotti. It is a beautiful café with very old decor including a yellow sofa from the home of the famous Danish author Hans Christian Andersen (see picture). It was his favorite café in Rome, you will find letters and sketches from him on the walls.
Another culinary delight was lunch at I Pizzicaroli‬ in Via della Fossa 9, a tiny restaurant with a short but mouth watering menu – go there! With tired feet we returned to our little gem of a hotel, Navona Essence (ask for a room with a balcony), on Via dei Cappellari 24, great value for money and still in walking distance to many highlights.
Then on the road again, visiting the Buco della Serratura di Roma, the keyhole 🙂 at Piazza dei Cavalieri di Malta 3, a small but still surprising view to St. Peter's Basilica through a keyhole in the door to the Priory of the Knights of Malta 🙂. On to the relaxing Orange Garden with a spectacular view over Rome. Of course we also saw the Mouth of Truth and Colosseum etc.
A final interesting, and for us a new sight, was the Collonata in the Secret Garden of Spada Gallery at Piazza Capo di Ferro 13. Simply an illusionistic masterpiece of the architect Francesco Borromini from 1653, an interesting end to our trip to Rome this February.
Considering the many coins thrown into the Trevi Fountain, we expect to get back 🙂
www.anticocaffegreco.it/
www.ipizzicaroli.it/
www.navonaessencehotel.it/en/