Motorhome TIPS'N'TRICKS for beginners like us

Our considerations, thoughts, ideas, and final decision in getting our MOTORHOME, RV, WOHNMOBIL, REISEMOBIL, AUTOCAMPER.
First of all, and we had to learn that too, there is no right or wrong, there is only what you want, what we want, what others want, and all are right but might be wrong for others.
In the very early phase, it all began when we considered selling our summer house and get a caravan – hooked on our car and ready to drive around on holidays in Europe. In the first period when the summer house was listed by the estate agent, we spent a lot of time figuring out what kind of caravan was best for us, size, brand, equipment, layout, gadgets, etc. When all was decided, or we thought it was, we began thinking about routes, places to visit, type of holiday, how to…. Then, one day, visiting one of the big dealers of caravans and motorhomes, we entered a big motorhome, just being interested in how it actually looked, what ideas were behind the layout in this big home on wheels. And sitting there, looking around, a small change in mindsets were planted. Within some weeks, we completely turned the heads in the direction of a motorhome instead of a caravan. We realized we could fit in, with the right model, the right layout, and so on. And most of all, and the real decision-maker, in a motorhome we could travel to places where no caravan was allowed, we could stay overnight at small places dedicated to motorhomes, we could drive around on small roads in the mountains or in the middle of vineyards and stop for lunch or coffee whenever we wanted. All in all, at least that was our idea, we saw this as a huge potential for our future holidays and weekends. So, finally, for us, it should be a motorhome.
A sneak-peak inside our new holiday home: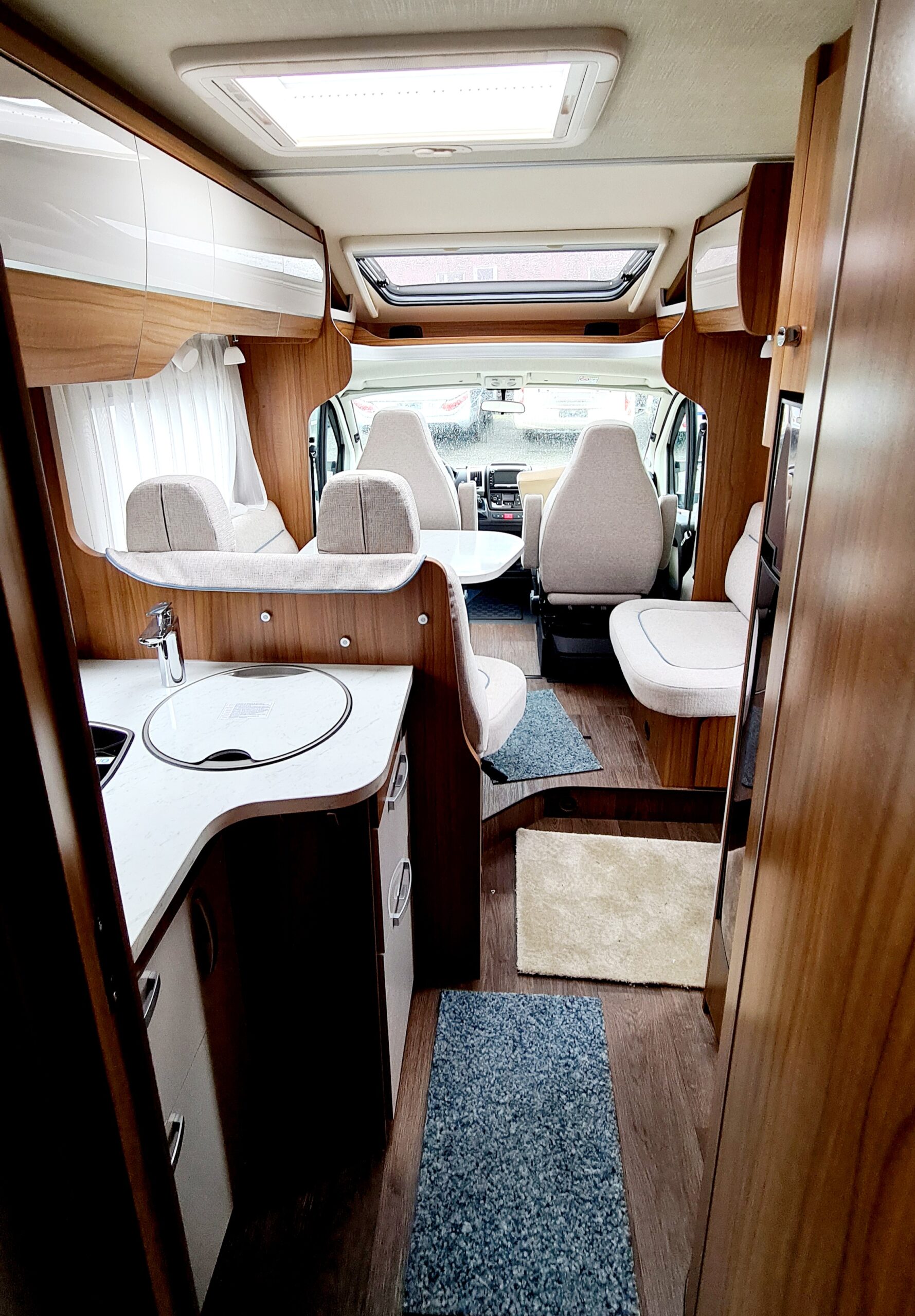 The final test, however, was to rent a motorhome. As we had, so far, decided that our future motorhome should be a Hymer, from one of the largest manufacturers of motorhomes in Europe, located in southern Germany. We started looking for a rental Hymer with a decent size and well equipped for our plans. We found one, and in summer 2020 we went for our first longer camping holiday, ever! This was a huge eye-opener, a proof that this was the right decision for us. And at the same time, we also figured out that the scary thoughts about handling such a big vehicle, the challenges with the relatively tight space, the work with wastewater, the (not so) ugly toilet tank, cooking on gas, unpacking, and packing every day or every second day….were just all part of this kind of holiday – and we liked it! Did we also have a hard time, did we argue about small and big details – yes, we did! But there we also learned we had to discuss things here and now and find solutions or compromises on the spot 😊. We also figured out some extremely important things to check for our own future motorhome, for example, the length of the beds, don't underestimate this point. And something completely different, solar panels and enough battery power for off-grid stays. During our 12 days, we were never connected to a land-based electricity supply. The solar panels on the roof always supplied enough power to the batteries. Size matters, we also realized our own motorhome should be a bit larger to accommodate our ideas of a holiday home on wheels for us and Maggie. So, the idea of renting a motorhome was an invaluable idea.
Maggie, checking the weather from our rental Hymer: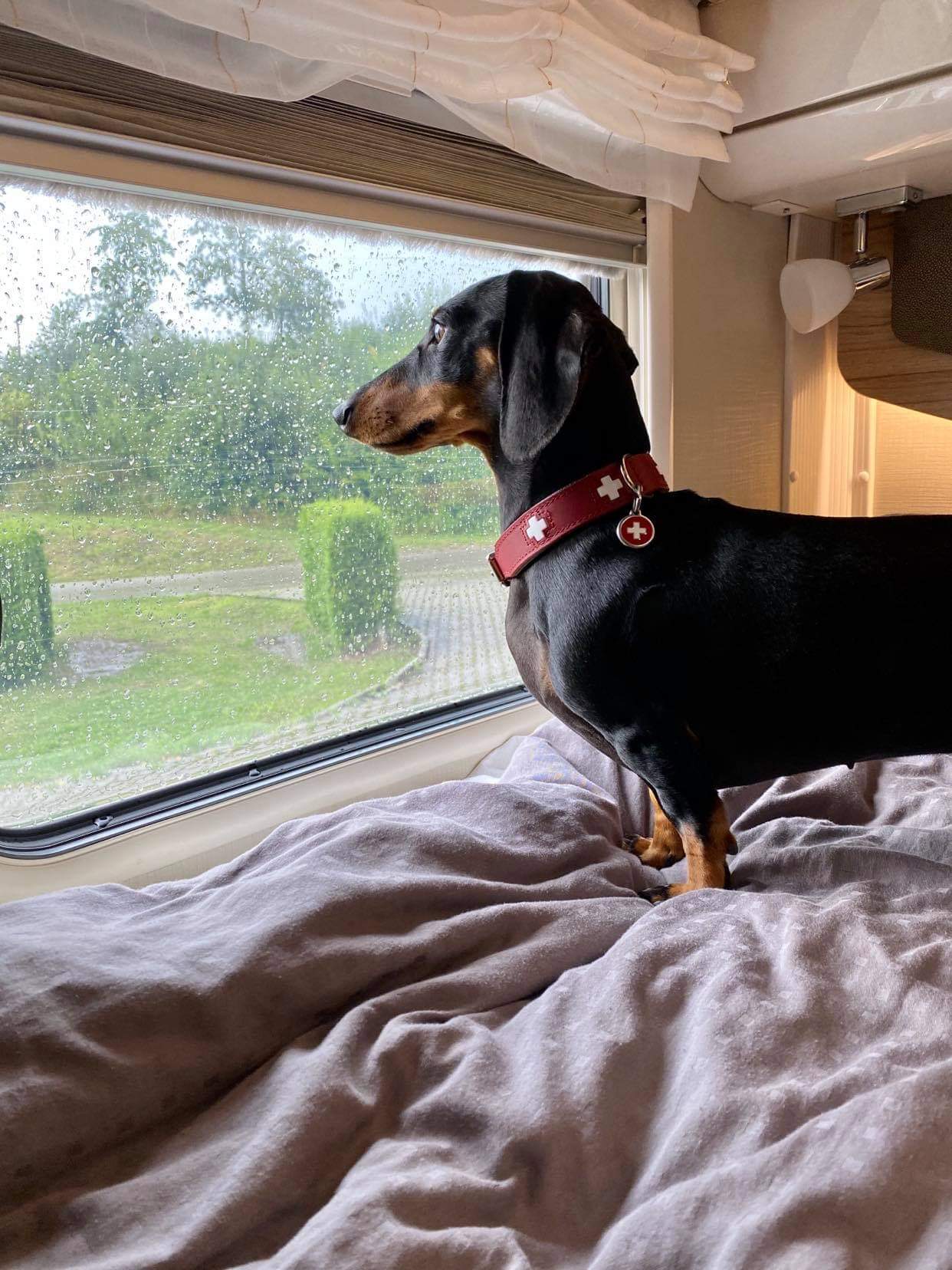 Chris, enjoying the first coffee, on the first morning, on the first campsite, in the first motorhome we ever tried:
On a campsite in former East Germany:
Coming home after a wonderful holiday our heads were full of ideas, wishes, and thoughts about the perfect motorhome, well – perfect but also affordable – uncompromising but also realistic.
A HYMER, that was still not to be discussed, we liked the style and ideas. We used the coming weeks to limit the models and layouts, then we searched for dealers having one or more of these models in stock, visited a lot, a LOT of dealers in Switzerland and Germany. We checked prices, equipment lists and also considered used motorhomes, run through camping magazines with tests of motorhomes, reviewed our needs and desire of gadgets, read about charging boosters, solar panels, gas supply, gas safety, carbon monoxide detectors, 12 volts, and 230 volt, greywater, black water, chemicals, mobile hotspot devises, inverters – you name it. Summarizing it all, and also realizing we would probably never find the perfect motorhome, we started looking for something close to perfect and defined a list of our requirements and wishes. Some not to discuss, some more flexible. And we were also, after some time 😊, realizing this would take time. After looking into a lot of models, physically, we also found that the first 10 – 20 seconds after entering a motorhome were crucial for the decision, either we liked or we didn't. It was relatively soon limited to a couple or three models, or layouts.
Then, one day in January 2021, we visited a dealer who had a really good offer of a Hymer motorhome with the layout we wanted, the perfect size, and this very good feeling in the first 20 seconds. THIS was to be our future motorhome! A Hymer Tramp Ambition CL 678 – 7,35 meters long, 2,35 metes wide, and 2,9 meters high!
It still needed some installations to be decided and handled, more about this below.
A random listing of some of the requirements to the layout we considered as important or not-to-discuss, for us:
Large garage doors: nice when loading and unloading all the stuff stored in the garage
Large garage: Enough space for all sorts of things, including bicycles, barbecue, outdoor chairs and tables, gas, water, and electric utilities
Long enough beds: simply a must, very important
L shaped seating area and an extra seat by the door: We had seen other layouts but considered this perfect for us and we think it gives great options for relaxing, dining, and working
Place for a TV in the living area, possibly in the sleeping room too: well, we like to watch TV and films, when we find the time
The gas stove with a line layout rather than in a triangle: does in fact leave a bit more space on the kitchen table
Separate toilet and shower rooms
Rearview camera: absolutely important for safety
Space for 2 large gas bottles: ensuring gas supply for longer trips
Window in the entry door: lets more light inside and we can see who is outside
A suitable number of electric sockets for 12V, 230V, and even USB
Engine with adequate power
A maximum total allowed weight of 3.500 kg: allows higher driving speed on highways, cost less in taxes and highway fees and it doesn't require another drivers license level
All the above points were covered by the motorhome we found. Then there were still some equipment and gadgets we found important for making our future motorhome even better. Some of them had to be installed by the reseller:
Solar panels and a suitable lithium battery: to ensure we can be independent of land-line electricity on longer trips we decided on a 220 Watt solar system with a 100 Ah lithium battery
Automatic gas bottle changer, crash sensor system, and gas filters: automatic change of gas bottle is very practical – we don't have to check if the first bottle is close to being empty, a crash sensor is for safety reasons, it will shut off the gas if an accident happens and filters simply extend the life expectancy of the complete gas system
An awning (in Danish and German: markise/Markise), is great for taking cover for the sun, when the dew falls in the evening and in general, gives a cozy feeling
An outdoor shower with cold and hot water, mounted with a long hose from the garage. Practical for cleaning footwear, the dog, bicycles, and for cooling us down on hot days
External gas outlet for our barbecue: much easier than always bringing an extra gas bottle, it will, of course, be installed on the same side as the door and it can be connected to the gas pipe from the refrigerator
A larger roof window over the beds, enabling more venting and also great for more light and looking at the stars at night 😊 (the existing window was very small)
A multidirectional roof ventilator over the kitchen: ensures ventilation when cooking, but also for getting fresh air inside
External antenna for 4G signal: as we also need to work, and for streaming and surfing, we need the best signal for the 4G to enable WiFi inside and outside the motorhome
A mobile LTE router: makes sure we always have WiFi independent from cell phones. We found the Netgear Nighthawk M2 was the best solution for us. It even runs a full day without charging, if needed
A WiFi extender: when we are on campsites with a weak signal, which we learned on our first trip during summer is very often the case, this can improve a lot. Here we found that the Netgear X4S AC2200 will be a great help
For safety, when it comes to gas leaks, and for the event of carbon monoxide inside the motorhome we decided on alarm systems to cover all cases. This can be handled by our G.A.S. Pro II from Thitronik including a CO sensor from the same brand
Apart from these few points 🙂 we agreed the reseller would install a couple of extra shelves in two of the kitchen cupboards
We did, originally, want to have a motorhome with a double floor. First because of the great insulation, but it also offers a lot of extra storage space. But, as this was actually in the rented motorhome, we also realized this means an extra step or two to get in and out of the motorhome. And you have no idea how many times you will get in and out during a day, a LOT. It can be hard for knees and hips. So when the model we found didn't have the double floor, and thus one high step less, we actually saw this as a benefit.
31.01.2021: The motorhome is still at the retailer, waiting for equipment to be installed. We expect a hand-over just before Easter.
Feel free to ask questions, comment on our decisions, like the post, read some of the previous posts……
Here is a link to our post about the holiday in a rental motorhome: CAMPER LIFE?! – Pros'n'Cons and TIPS'N'TRICKS – From The Top of Switzerland
OK, so far for today – to be continued. For links to some of the products mentioned, have a look at the list below.
DISCLAIMER: As an Amazon Associate I earn from qualifying purchases.
These are all PAID LINKS:
Some of these products have not yet been mentioned above but will be covered later:
KITCHEN and other inside things:
Plastic bowls for storing:  https://amzn.to/3cq6yVu
Oven gloves, simply the best we ever tried: https://amzn.to/2MBcUXg
Ridgemonkey: https://amzn.to/36svfwK
Clothes hangers: https://amzn.to/2NItYLo
Sea to summit frying pan: https://amzn.to/36nFdQ3
White camping plates and bowls set: https://amzn.to/3tkkJ4H
Water cooking kettle: https://amzn.to/3t9ZkLf
Plate for spice jars: https://amzn.to/3iZRxeo
Magnetic jars for spices: https://amzn.to/39zyXXy
IT and electronics:
GPS tracker, enables tracking of a stolen vehicle: https://amzn.to/3oCNMN0
Small inverter from 12V to 230V: https://amzn.to/36rwEDP
Adapter for 12V – 230V for laptops: https://amzn.to/36vpUVA
Telefunken 22" camping TV with DVD: https://amzn.to/3aiLhdR
Camping GPS Garmin 780: https://amzn.to/3csb9q4
GoPro Hero 9 Black: https://amzn.to/2NSkT2Q
Netgear M2: https://amzn.to/3cpNqqL
Netgear X4S: https://amzn.to/3tfmGyY
SAFETY:
Gas alarm: https://amzn.to/2YwRa1m
Carbon monoxide alarm extension: https://amzn.to/3cEn0ll
Fire blanket: https://amzn.to/3r8pM6k
OUTSIDE:
LED light dog collar https://amzn.to/2Yyt7is
Water can: https://amzn.to/2NN991r
Extremely strong double gluing mounting pads https://amzn.to/3ov73jn
Water tank adaptor: https://amzn.to/3r4vGVS
Gas adapters: https://amzn.to/39z8aKF
One step stair: https://amzn.to/3j57AHC
Bowls for dogfood and water: https://amzn.to/3cssj6X
Water tank silver filter: https://amzn.to/2YybjEp
Repair tape, super-strong: https://amzn.to/36u4wjj
Mounting ties: https://amzn.to/2NGzJJx
Telescopic ladder: https://amzn.to/2MdoEzw
Water hose for drinking water: https://amzn.to/2MmF2xB
Humidity removers: https://amzn.to/2YwCdMM
Chopping axe, hatchet, for firewoods: https://amzn.to/3pMw1Mw
Spark lighter for the gas burner: https://amzn.to/3pBOiMv
Gas burner Primus Omnilite Ti: https://amzn.to/39yXfAT
Electric adapters: https://amzn.to/2Yt2c7J
Gas barbecue: https://amzn.to/36ryODr